Uranium Outlook
By: Sol Palha, Tactical Investor

-- Posted Sunday, September 9 2007 | Digg This Article

| Discuss This Article - Comments:



We know what happens to people who stay in the middle of the road. They get run over.
Aneurin Bevan 1897-1960, British Labour Politician
Several factors resulted in producing a rather large pull back in Uranium bullion prices. The main reason as usual was not a normal factor; in other words it was due to government intervention and manipulation. The US dept basically dumped 520,000 pounds of uranium on the market and as expected it created a mini panic. Hedge funds which had loaded themselves with Uranium suddenly decided it was time to bail out and started to sell into weakness instead of strength. However what made the situation worse was that a large number of hedge funds were over exposed to the sub prime mortgage sector and thus were facing a bunch of margin calls. When you face a margin call you have to start selling your best assets to meet these calls. Itís for this reason we have never advocated margin trading in this service. Margin trading is only for individuals who understand the concept of all or nothing and truly understand the concept of defined risk. In addition professional that trade on margin should only dedicate a small portion of their funds to this type of activity and to make sure this is the case a separate account should be opened for margin trading.
Uranium bullion and Uranium stocks were subjected to 4 powerful short term forces
1) Prices were driven lower by the sale of government uranium. A very dumb, stupid and ignorant move as there is a huge shortfall of uranium at present. These very chaps will come crawling and buy back Uranium at significantly higher prices in the future. They tried to stall the price of Gold and failed the same held true with silver and now they will fail with uranium also.
2) Hedge funds who owned bullion assumed a top was in and started to take profits but one should always sell into strength and not into weakness. Once again we feel that these chaps will bang their heads on the wall in frustration in the months and years to come.
3) Small traders panicked and dumped all their uranium shares this resulted in prices spiking below all support levels as when fear rules it dominates everything
4) Finally many hedge funds were forced into liquidating their strongest performing assets among which were Uranium bullion and Uranium stocks to meet margin calls due to their over exposure in the sub prime mortgage markets.
One can clearly see the rapid pressure bullion was under in the last few weeks when one looks at the one year chart. Note that right now prices are sitting on the long term trend line but we would not be surprised to see them dip below these levels momentarily.
Everyone is now busy screaming about how the bull has come to an end; a perfect example of mass hysteria and mass madness in action. Look how they fail to look at the chart closely. In one year prices shot from under 50 dollars to almost 140 dollars; thatís close to a whopping 200% gain.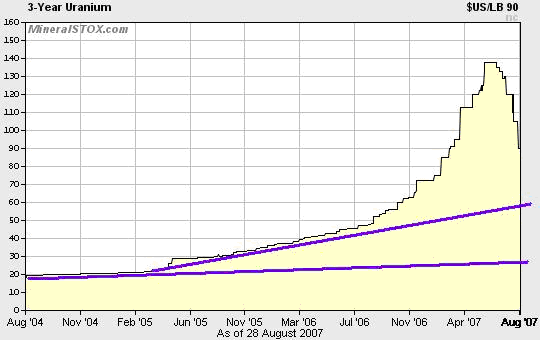 If one looks at a 3 year chart prices have risen almost a 1000%; we are not sure what math classes the masses have taken but our analysis indicates that a pull back of up to 36% is nothing out of the ordinary. Now we do not envision bullion prices pulling back this much but if they were to one should not panic instead they should kneel down and thank whatever higher power they pray to and start aggressively buying uranium.

The masses which include many hedge fund and Mutual funds, large speculators, small speculators, program traders and your average Joe always over react the moment the going gets a bit tough. Many subscribers had written in asking us why we kept posting entry prices to many of the uranium stocks when they were currently trading so much higher then our suggested entry points and some even stated that we were wasting our time; well know you know why. Patience is a virtue and its rewards are usually great in nature. Those of you that were sorry that you missed the last massive run, it might be time to look into taking a few positions now. Certain Uranium stocks are exhibiting early strength; trend analysis and or multiple time frame analysis can you help you pick the best ones.

Itís always tough to buy when the scenario looks bleak and easy to buy when things look good but note that traders usually make large sums of money by buying when everything looks bad and taking profits when everything is looking rosy. The prices of many Uranium stocks have dropped to incredibly low levels and we are pretty sure that in the not to distant future most uranium stocks will fully recover and be trading significantly higher then they are today.

Remember that the overall supply of Uranium is not increasing. We cannot meet current demands so whatís going to happen in the future when all these plants start to come online. China is adding one new nuclear plant almost on a monthly basis, Russia has just announced plans to build another 42 plants and they have also announced that they are going to build portable floating nuclear power plants that they plan to sell to almost anyone that can pay for them. Hum the future is strange here because every nation is busy building nuclear plants but none of them are allocating the same amount of money to finding new sources of Uranium. One day there is going to be a massive bidding war for uranium and itís really hard to tell how high prices could eventually go but we are sure that they will be sky high.

Once again the smartest thing to do now is to look for uranium plays that are showing early strength and start taking positions in those for they will be the leaders of the next upward leg.

Foot note

There is a lot of uranium in this planet particularly close to the core of the Earth but none of the worldís governments have mounted massive exploration or developmental programs. They are busy spending billions of dollars on building new nuclear plants but have hardly given a thought to how they are going to power these plants in the future. If the same amount of money was thrown into finding new sources and developing current sources of Uranium we might not have this shortage. The shortage is simply due to lack of planning and lack of foresight. As usual they always wait till the situation hits the almost unbearable zone before acting. The problems is that this time there will be no quick fix to this self created disaster; it takes anywhere from 2-4 years before a new mine can come online so in between that time frame prices could go ballistic as demand continues to increase with the addition of every nuclear plant and the supply continues to dwindle.

All charts were supplied courtesy of www.mineralstox.com


-- Posted Sunday, September 9 2007 | Digg This Article

| Discuss This Article - Comments:


Previous Articles by Guest Authors